IPAC Gets New Executive Committee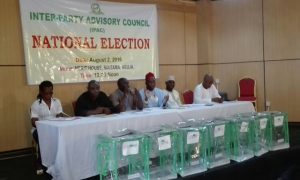 The Inter-party Advisory Committee (IPAC), the umbrella body of registered Political Parties in Nigeria, yesterday, Tuesday, 2ndAugust, 2016, held an election which ushered in the National Chairman of Accord Party, Hon. Muhammed Lawal Nalado, as Chairman. He will stir the affairs of the Committee for the next one year.
The election which held at Merit House, Abuja, saw delegates from 29 out of 30 registered parties electing their choice candidates among those who presented themselves for positions in the executive committee of IPAC.
Announcing the election results, the co-chairman of IPAC Election Committee, Chief Ralph Okey Nwosu, who is the National Chairman of African Democratic Congress (ADC), declared that Nalado scored 16 votes to defeat his opponent, the National Chairman of Labour Party, Alhaji Abdulkadir Abdulsalami, who scored 13 votes.
Other members of the IPAC executive elected yesterday include:
·      Deputy National Chairman     –        Dr. Onwubuya A. Breakforth (ACD)
·      National Secretary                 –        Chief Sam Eke (CPP)
·      Deputy Secretary                   –        Alh. Abdullahi Isah Abdulmalik (PPN)
·      Treasurer                               –        Samaila Umar Sifawa (APA)
·      Financial Secretary                –        Saidu Bobboi      (KOWA)
·      Publicity Secretary                 –        Chief Ogbuefi Dike (UPP)
Before the commencement of the elections, the co-chairman of the Election Committee, Chief Ralph Okey Nwosu, had expressed the Committee's readiness to forge ahead as one, indivisible body. He assured that IPAC had put behind it the crisis that plagued the body for the past one year in the interest of the country.