NOTICE OF ACTIVATION OF THE INEC PORTAL FOR THE RECRUITMENT OF ELECTION STAFF (INECPRES) FOR THE 11TH NOVEMBER, 2023 OFF-CYCLE GOVERNORSHIP ELECTIONS IN BAYELSA, IMO AND KOGI STATES
The Commission has approved the activation of INECPRES both the Mobile App for Android phones only and the web portal (laptops/desktops only), to this end the portal will be available to eligible applicants for registration of all categories of ad-hoc staff (SPO/PO/APO/RATECHs/RAC Managers) except the Collation officers.
The portal opens on Thursday 31st August, 2023 at 8:00am and shall close on Monday, 2nd October, 2023 by 12:00 midnight.
INECPRES – OTHER KEY INFORMATION
The INECPRES is for registration of Election duty ad-hoc staff (Supervisory Presiding Officers (SPOs)/ Presiding Officers (POs)/ Assistant Presiding Officers (APOs)/ Registration Area Technicians (RATECHs) and RAC Managers).
Launch period: INECPRES opens on Thursday 31st August, 2023 by 8:00am and close on Monday, 2nd October, 2023 by 12:00 midnight.
A link to the INECPRES is available at the INEC website www.inecnigeria.org
The URL of the INECPRES Web portal  is pres.inecnigeria.org
The Mobile Android App link is  https://inecpres-app.com/pres-app.apk
The IT Service Management (Help desk) details are:
a) Technical Assistance via phone:
Rukayat (07057808259)/ Chioma (08036936180)   –   Bayelsa
Bolaji (08059653879)/ Lizzy (08098604364)             –  Imo.
Queensly (07055494581) / Buhari (07083613700) –  Kogi
b) INEC Citizen's contact Centre Vanity number:       0700-CALL-INEC
Send Email for Technical Assistance/enquiry to: pres@inec.gov.ng
The Phone numbers of assigned help desk officers per state are detailed on the portal.
All applicants are encouraged to fill and submit the registration forms online to be eligible for consideration as ad-hoc staff in the 11th November, 2023 off-cycle governorship elections in Bayelsa, Imo and Kogi states. For Eligibility criteria, please see the tables below 
ELIGIBILITY CRITERIA & SOURCE INSTITUTION/MDAs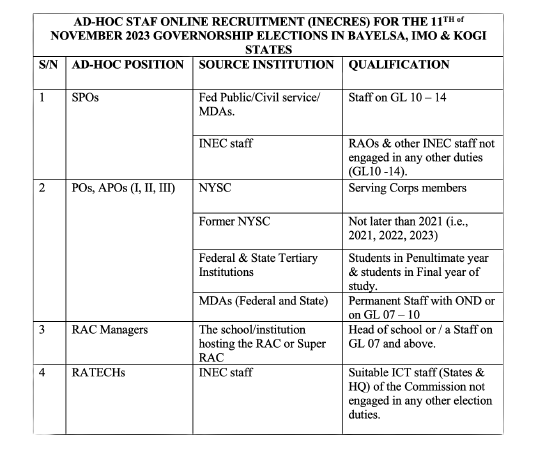 Applicants must not be a political party member.
Applicants must not have demonstrated or expressed support for any candidate or party.
Applicants must reside in the STATE selected except for RATECHs.